Nanotechnology devices
Nanotechnological projects need hi-tech devices shifting your research capabilities to next level. InoCure is here to help you develop own scaffolds and drug delivery systems. We are specialized in delivering high-throughput and simple to use electrospraying/electrospinning device.Your laboratory are not acclimatized and you need constant temperature and humidity control for your experiment? No problem – our engineering team can cater to your needs.You have done basic research in your electrospinning/electrospraying process and ready to scale-up? Then our specialist will be happy to assist you and build a customized machine to scale-up your production process.
No matter if you search for electrospinning/electrospraying devices or custom nanotechnological device, InoCure is the right choise for you!
Custom equipment engineering
Custom equipment engineering
Nanotechnological solutions innovating your proces.
InoSPIN
Electrostatic methods enable production of nanofibers and nanoparticles. Application of electrospun materials ranges from energy applications to healthcare solutions. The complexity of electrospinning setups leads scientist to work on home-made devices with poor scalibility.
InoSPIN is here to combine flexibility with scalibility and reproducibility to help you shift your nanotechnological projects to next level.
Key advantages of InoSPIN include:
Optimized unit design – InoSPIN combines low space requirements with maximal thorughput and flexibility of electrospinning setup. Device has footprint as small as 900x890x1000 mm and fits to each laboratory.
Modularity – InoSPIN comes with range of collectors and emmiters to support your most complex electrospinning projects.
High-throughput production – InoSPIN despite small footprint accomodates high-throughput needleless electrode and roll-to-roll systém with efficient width of 400 mm enabling large scale production on bench of your laboratory.
Reproducibility – InoSPIN is completely automated what enables you to reproduce all your electrospinning parameters every single spin. Nevertheless, InoSPIN is designed to work with InoCOOL high-precision air conditioning unit.
Intuitive operation – easy to use software delivering electrospinning even to non-specialized laboratories. InoSPIN could be controlled via integrated touch screen or any internet connected device (Windows/Linux/Android/OsX).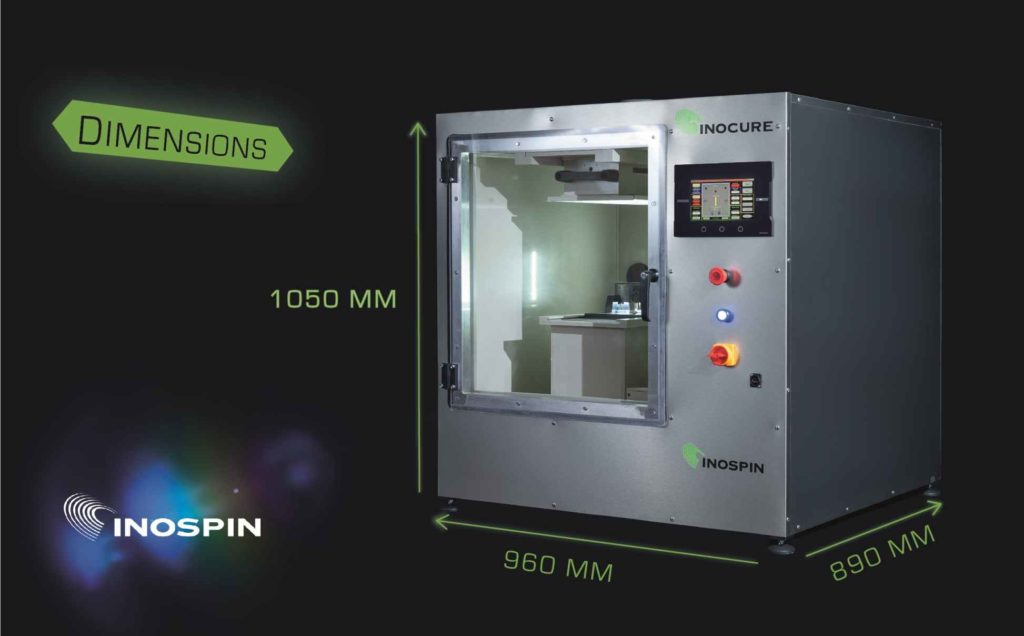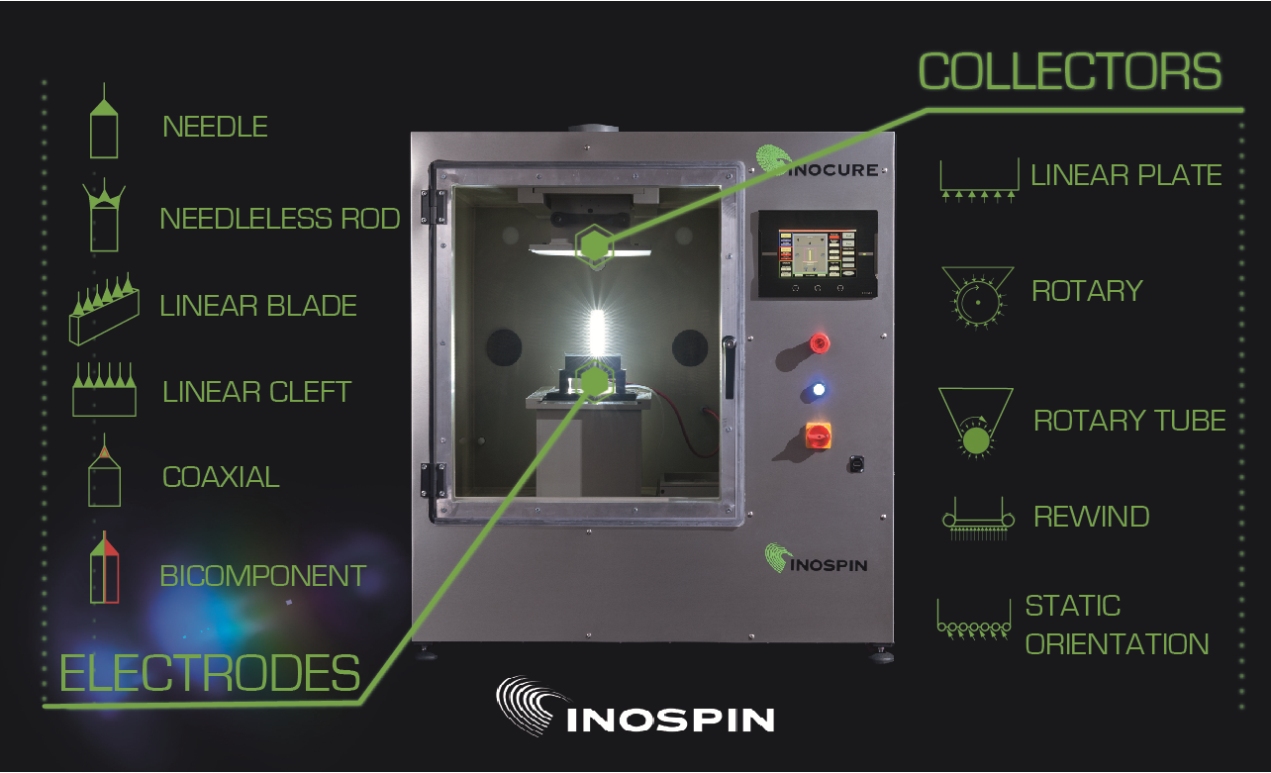 Accessories:
Emmiters:
Needle electrodes – needle and multineedle spinning
Needleless rod electrode – your introduction to high-throughput spinning
Linear cleft electrode – high throughput production of fibers.
Linear blade electrode – our top electrode for high throughput production.
Coaxial electrode – production of core/shell fibers
Bicomponent electrode – production of bi-compontent fibers
Collectors:
Linear plate eletrode – deposition on linear or structured plates
Rewind collector – best solution for high throughput prodution
Static orientation – gap-collector
Roatary collector – 100mm rottary drum collector for oriented fibers
Rotatary tube colector – compatible with 1-10mm tubes
Interested in more information?
Do not hessitate to contact us for more information!
InoCOOL
As it is known, electrospinning is very versatile and economically efficient process. But the optimization is very challenging because of the fact, there are lot of parameters needed to set up. To improve reproducibility of the electrospinning process , InoCURE designed and brought to the market Air Conditioning Unit called "InoCOOL". Many publications showed how important tightly controlled environment conditions are, in order to stabilize the process and to obtain reproducible morphologies. In addition, the unit is fully integrated which means there is no additional lab space needed. To control temperature and humidy can be really game-changing for your research or scale-up process.
Robust construction and high-quality materials used
Wifi connection
Full software integration
Compatibility with any commercial electrospining device
If you are intersted in more indormation about the compact air condition system compatible with your electrospinning/electrospraying device, please, don`t hesitate to contact us.
Custom equipment engineering
Custom engineering 
We offer development of special nanotechnological devices from design to final manufacturing.
We have experience with emulsification, electrospinning, electrospraying, dip coating, spray coating, roll-to-roll rewind systems, thermal stabilization, air conditioning and microfluidic devices. Our engineering team integrates the technologies with proffesional electronics, intuitive software and can help to up-scale your technology for industrial use.
Some of our recent projects:
Modular production line
Modular production line for wound dressingsSystem combining roll-to-roll technologies for nanofunctionalization of wound dressings. ING Medical produces antimicrobial wound dressings STOP Bac using custom bulit production system from InoCure.
System for lipid particle synthesis and surface functionalization.
System for lipid particle synthesis and surface functionalization.
Industrial customer uses our custom-bulit production system for aseptic on-line production of liposomes and lipid particles and their combination with textiles.
InoSPIN Mixing station:
This device is a perfect example of custom equipment engineering  by InoCure company. We designed, produced and manufactured the mixing station based on very specific requirments of one of our clients. This kind of equipment is esential for industrial production of the nanofibers.
Reproducible preparation of solutions up to 150 l/ batch
Customized ports for specific applicants
Safe and powerful mixing system
Made of stainless steel and ATEX parts